13 Jul
In Memoriam: Michael Jon Coates
March 13, 1953 - June 22, 2021 - R.I.P.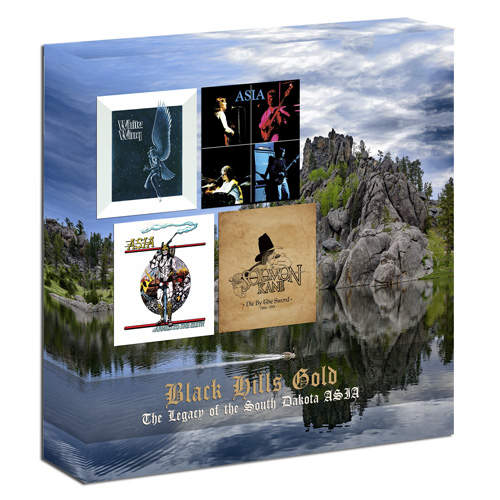 It is with a heavy heart that we announce the passing of one of the biggest musical geniouses that have ever appeared in the U.S. hard rock / heavy metal scene of the 70s and 80s. The use of the word 'genious' is chosen with a precise understanding of what it entails. We have rarely encountered in our lives persons, artists, musicians etc that someone can call a genious and without any doubt, Mike Coates, the founder and guitar player of ASIA, WHITEWING and SOLOMON KANE has been one of them.

Both ASIA albums, "Asia" and "Armed to the Teeth", released in 1979 and 1980 respectively are just as great as ANYTHING you might have ever listened to containing some of the most important lyrical hard rock masterpieces ever penned by any artist in any genre of music. ASIA and Mike Coates specifically managed the impossible. To incorporate elements of classical music, hard rock, progressive elements, THE BEATLES and give us epic pieces of music like "Road of Kings", "Taming of the Bull", "Thunder Rider" etc.

It is no secret, that with the collaboration of our friend Francisco Dias, owner of PROGAOR records who first re-released all of Mike Coates' masterpieces on great CD versions, we have been working behind the scenes in order to properly release all 4 albums of Mike Coates on deluxe vinyl versions plus Box Set. All this time, Mike Coates was directly involved in the reissue process, supervising the whole project and for more than 3 months we have been in almost daily contact, correcting things until the reissues receive the full approval from Mike. What had really blown us away, was Mike's attention to detail and that nothing was incidental. I remember a funny incident when we decided to add a small version of the angelic figure that appears on the front cover of the WHITEWING album, to the back cover of the album. Mike told us that it shouldn't be there and explained to us the whole concept of the angel and the purpose of the design of the back cover, where we should only place a few feathers, indirectly expressing the absence of Hansa (the figure on the front) forever lost in the void of time. If only, you pay attention to the liner notes of Mike in the upcoming reissues and also the lyrics they wrote for all songs you will understand that what we're dealing here is a different kind of beast. Not your regular rock band with the sex, drugs n' rock n' roll type of lyrics and concepts.

Despite being such a great musician, Mike was all the way humble and I will never forget the day I told him how important his music has been to us and how amazing and ahead of their time his songs lyrics were. His response via email is something that I will never forget and quote here without changing a single line:

"I am in tears here at 5 AM. Label and do the box set as you see fit. I trust you implicitly."
The news of Mike's death caught us completely off guard and it's really heartbreaking that he will never get the chance to see the reissues of his classic works on vinyl. But we promise one thing to our friend whom we never got to meet in person. That his music legacy will NEVER be forgotten and if we can contribute as little as 1% we shall do it with all our power. We also want to extend a huge thank you to Francisco Dias for all he did for ASIA, SOLOMON KANE and WHITEWING. His persistence and love for music is what started the fire. May more people get to know Mike through his amazing music, so rest assured that as long as labels like PROGAOR and Cult Rock Classics exist, good music will prevail!